Booking Miss Polly Hoops
HULA HOOP ARTIST FOR CORPORATE & CABARET EVENTS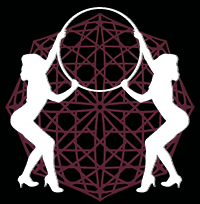 Hula hooping has become the latest trend, with major fashion designer Chanel creating the Hula Hoop bag, celebrities such as Kelly Osbourne and Grace Jones using hoops for performance and fitness; this is the one act your event needs! Impress your clients with a super stylish performance that is totally in vogue.
Polly will make your event unforgettable with her stunning display of contemporary circus skills. Trained in Ballet and Physical Theatre and with years of experience working the London Cabaret Scene Polly is sure to leave audiences in awe!
Polly can also present talks on motivation, communication, crowd control and confidence.
Polly's Drama training began at the age of three, since then she has been involved with an abundance of workshops, focused on improvisation, confidence building, team work, public speaking and devised performance. At the age of eighteen Polly was accepted into one of the UK's leading and most innovative London universities, Goldsmiths. After graduating Polly used her skills to develop a forty minute Street Show. In doing this she has learnt how to gather a crowd, maintain and entertain them so effectively that they pay her there and then. Not only that but Polly has produced a show that enables the public to experience a 'happening'; something that is free spirited and organic. This show empowers and embraces the often lost notion of 'community'.
Within the trade show and corporate market, this skill set that Polly has accumulated throughout the years, is extremely influential and compelling.
Have a product you want to sell? Want your kiosk or booth to be the most visited at a trade show event? Book Polly and she can guarantee your product will be given the most attention!
SPEAKER / STREET SHOWS / TRADE SHOWS
"Miss Polly Hoops stole the show!"

-

EMMA DONOGHUE (BEST SELLING AUTHOR)