Miss Polly Hoops
ARTIST. PERFORMER. MARVEL.
Miss Polly Hoops has been featured on a variety of television channels with her Hula Hoop Street Theatre Show, performed internationally at some of the worlds top festivals and has performed for countless major corporate companies.
Beginning in 2011 on the streets of Edinburgh, Polly taught herself not only how to hula hoop to a world class standard, but to also utilise her new found skills and dance background to engage hundreds of people at a time. In the last four years she has been taking the world by storm having been the feature performer on the BBC's Travel Show and also on Ashley Banjo's Secret Street Crew on Sky One as the resident Hula Hoop dance expert.
As a highly respected and sought after Cabaret Artist, Miss Polly Hoops holds in house residencies for Time Out's 'Top London Cabaret Venue' - 'Proud Cabaret', "She brought a new level of energy that I have never seen here before" (Proud Cabaret) and Wild Cabaret in Glasgow, which has been described as one of Glasgow's most exciting new venues. She has toured throughout the UK with the Theatre show 'An Evening of Burlesque', performed at famous London venues and Theatres such as The Arts Club -Mayfair, Kettners - Soho, Madame Jo Jo's, Volupte, The Hackney Empire, Leicester Square Theatre and The Charing Cross Theatre.
During the 2014 Edinburgh Fringe Festival Polly performed in over 50 shows, including the sold out 'Vive Le Cabaret' which gained rave reviews "A glittering grab-bag of fun and laughter, Vive le Cabaret is still the original – and still the best." And in a plethora of venues including The Famous Speigeltent and The Voodoo Rooms, as well as her own solo street show "Great seeing Miss Polly Hoops at the Fringe, best female street performer".
Some of Polly's current corporate clients include: Benefit MakeUp, Total Greek Yogurt, Drambuie, The National Centre for Circus Arts London, The London Mayors Cultural Olympiad (Piccadilly Secret Circus), Mercedes, Selfridges, Reebok, Heineken, The Scottish Entertainment Awards, The Herald, The Edinburgh Fringe Society, Showzam, Covent Garden Limited, Dolphin Creative and Retail in Motion.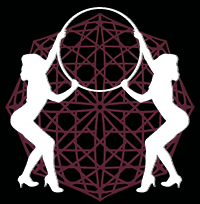 Miss Polly Hoops Festival Show is considered one of the highlights, so much so the Edinburgh International Fringe Festival have used her as their performer of choice on all social media marketing sent out to promote the festival. Having performed in the world famous Covent Garden in London for two years running she is currently the youngest female street performer in the UK. "Just saw Miss Polly Hoops perform in Covent Garden! She was totally amazing!" (Tweet from audience member).
Beyond all of her performing, Polly is also an in demand Hula Hoop instructor, she has taught at the International Dance Festival in Germany 'Potsdamer Tanztage' and has featured on MBC Dubai for her performances and workshops during the first ever Hula Hoop Festival in the Middle East.
Miss Polly Hoops is the most impressive Hula Hoop Artist on the Cabaret, Street Theatre and Corporate Entertainment scene.
Want to add beauty, skill and class for your event? Then book Polly NOW!
"Thank you Polly for an outstanding display. We're still wowed. You make the impossible look effortless."

-

KISS KISS BANG BANG CABARET